14 January 2021
Ambient
Avant-Garde
Experimental
Free Jazz
Lecture
Cinematic
Ethereal
Informative
Meditative
Melancholy
This is an episode that started as a meditation on waiting, and became an episode about the distillation of time and the experience of time passing: its expansions and contractions. Our lodestars in this sense will be two great proponents of free jazz: the musician/researcher/educator/gardener/martial artist Milford Graves and the writer/educator/poet/filmmaker Amiri Baraka. We'll be looking at time as irregular, subjective—its passage expressed elastically. Mostly, we'll be looking at patience and its ritualisation. We'll search for strategies in music to be in time, and so perhaps to account for its passage not in terms one's own subjective experience of it, but in terms of existing within its inevitability. 
Hang in there, friends. 
As ever, Something Like's jingle is provided by my brilliant friend and collaborator Roger 3000, who has an adorable new track out on bandcamp now.
You can listen to Amiri Baraka's complete 1985 lectures at Naropa University here.
You can watch Milford Graves: Full Mantis here
Patience
Patience is
wider than one
once envisioned,
with ribbons
of rivers
and distant 
ranges and 
tasks undertaken
and finished
with modest 
relish by
natives in their 
native dress.
Who would 
have guessed
it possible 
that waiting
is sustainable—
a place with 
its own harvests.
Or that in 
time's fullness
the diamonds 
of patience
couldn't be 
distinguished
from the genuine 
in brilliance
or hardness.
Kay Ryan, Say Uncle, 2000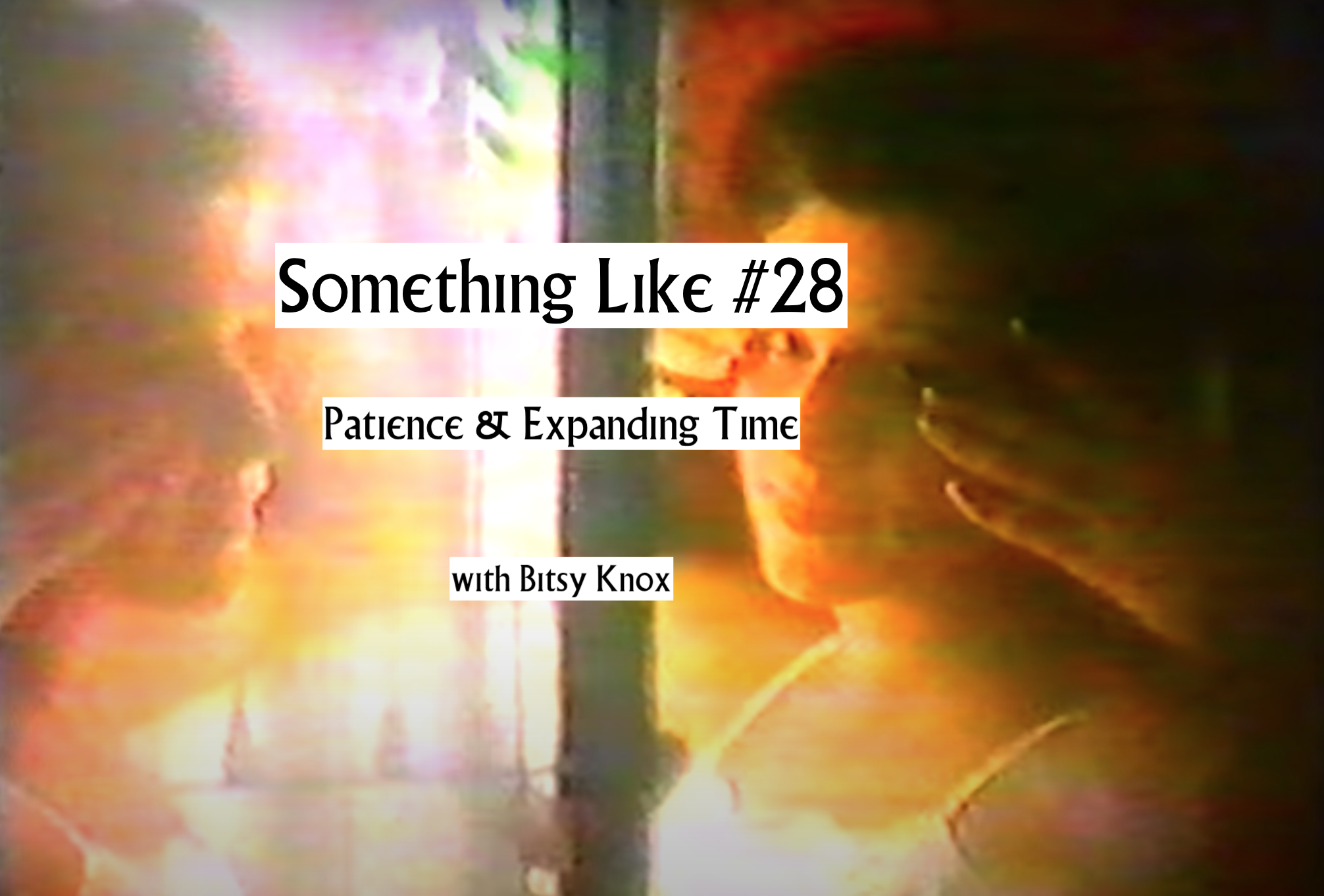 Playlist

Milford Graves, Milford Graves: Full Mantis, dir. By Jake Meginsky, Neil Cloaca Young, 2018

Ka Baird, Isentropic, Bespires, May 2020

Barbara Golden / Melody Sumner Carnahan, My Pleasure, The Time is Now, 1997

White Light, We Sat Together, White Light, 1982

Loris S. Sarid, Orrizontale Verticale, Music for Tomato Plants, 2020

Celia Hollander, Spared Time, Recent Futures, 2020

AM 4, And She Answered: Mi-La, ...And She Answered, 1989

Anadol, 78 ((yetmiş sekiz) Yılının En Uzun Dakikası, Uzun Havalar, 2019

Patricia Brennan, Improvisation VI, Maquishti, 2021

Amiri Baraka, On Class, Speech, Rhythm, Sound, and Music, Naropa University, 1985

Sarah Davachi, Accord of Voice I, Laurus, 2020

Neil Young, I've Been Waiting for You, Sugar Mountain – Live at Canterbury House, 1968

His Name is Alive, Tape Slow, A Silver Thread (Home Recordings 1989 - 1990), 2021

Bitsy Knox & Roger 3000, Walking, OM COLD BLOOD, 2018

Gavin Bryars, Jesus Blood Never Failed Me Yet, The Sinking of the Titanic / Jesus' Blood Never Failed Me Yet, 1975